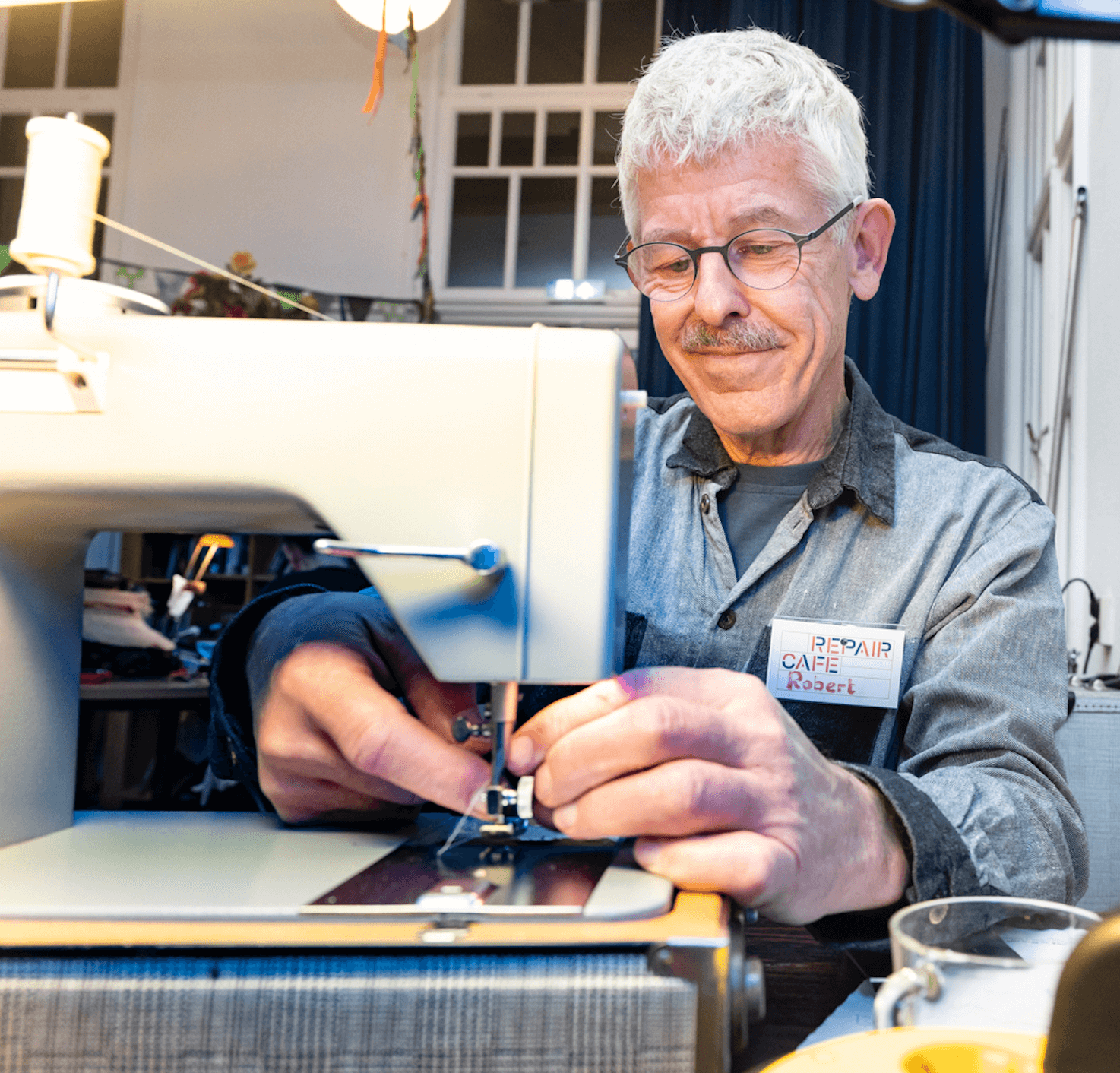 Sewing machines are easy to repair in the Repair Café. This certainly applies to mechanical ones. 73 percent of the sewing machines brought to the Repair Café are successfully repaired. This is evident from the RepairMonitor, the online tool with which Repair Café repairers keep track of their repair data.
Most common problems with sewing machines
Sewing machines often don't work because people don't use them properly. This becomes clear when looking at the top 5 most common problem with sewing machines, found in the RepairMonitor:
Tension broken or too high/low
Broken/tangled bobbin winder
Needle adjustments/stuck
Needs cleaning and/or oiling
Broken gear
Fortunately, sewing machine specialists are present in most Repair Cafés. They know a lot about the right settings and can help you on your way.
In almost half of all repairs (49%), Repair Café repairers graded the repairability of the product as a 7 or higher (from a scale of 1 to 10, where 10 is the highest). In only 11% of registered sewing machine repairs the repairer was not able to fix the problem. In 16% of the registered repairs, the sewing machine was 'half repaired'. In such cases, the owner was given advice on how to solve the problem at home, or which spare part was needed to complete the repair.
Singer, Pfaff and Husqvarna sewing machines are popular
According to the data in the RepairMonitor, people come mainly with sewing machines from Singer, Pfaff and Husqvarna (see Figure 1). Models from the brands Toyota and Lewenstein are likewise popular.
Solutions for sewing machine problems
When sewing machines are successfully repaired, in many cases one of the following things was done:
Cleaning and lubricating the sewing machine
Choosing the right thread tension
Adjusting and given tips for maintenance
Foot pedals fixed
Coils and gears were replaced.
With a mechanical sewing machine, you stand a good chance of a successful repair at a Repair Café!
Properly setting up your sewing machine
Repair Café Nieuwegein (the Netherlands) has a sewing machine specialist: volunteer Marieke. "People often don't know how to do stitching", she says. According to Marieke, people often thread the thread incorrectly out of ignorance. The manual of the sewing machine or internet can offer a solution. Make sure to use the same yarn above and below and always re-tension the thread before sewing. Always use the correct needle and make sure it is clean. A good needle is a needle that is sharp. Also put the coil in well. If the bobbin is not properly seated in the bobbin case, the needle will not go back and forth, preventing sewing.

It's important to service sewing machines
As with all devices, maintenance is also important with sewing machines.
Clean your sewing machine regularly.
Make sure you take the power off before cleaning.
You can clean a sewing machine by taking the frame apart.
Dust can then be easily removed. This way, you will also become familiar with the inside of your machine.
Cleaning a device is a good start to understanding it. Moving parts can be lubricated with sewing machine oil. If you have a self-lubricating sewing machine you don't have to; these machines continue to work well on their own.
Newer machines are less repairable
Newer sewing machines are often much less repairable than older models, according to Repair Café repairers. This can also be seen in Figure 2, which represents the success rates of sewing machine repairs registered in the RepairMonitor, grouped by how old the machines are. Sewing machines which have been produced before the 2000s have a higher repairability than the newer once.
Marieke notices that people often have to return the newer machines to the specialist in case of problems. In such cases, a new chip often has to be inserted. You cannot easily tinker with such machines yourself. That is a pity, says Marieke. Few young people with a sewing machine visit Marieke in her Repair Café. It is often older women who don't know how to handle their sewing machine anymore.
Websites about sewing machines
Fortunately, there are more and more good sewing machine websites. Marieke often visits the Matri website. It has a whole <step-by-step-maintenance plan> with clear images and many sewing machines parts. Furthermore, it provides sewing tips as well as a forum with solutions to common sewing machine problems. When it comes to right maintenance , then this website provides a detailed description of how to take care of your sewing machine.
If you own a Pfaff sewing machine, there is also the possibility of visiting their website. Here you can enter your machine name and find the manual online.
Repair your coffee maker yourself or drop by the Repair Café!
Do you need help repairing your sewing machine? Then come to a Repair Café in your area. Want to do the repair yourself? Then find a repair guide at iFixit! You can also use these step-by-step guides to prepare your visit to the Repair Café. This way you can read what to expect.