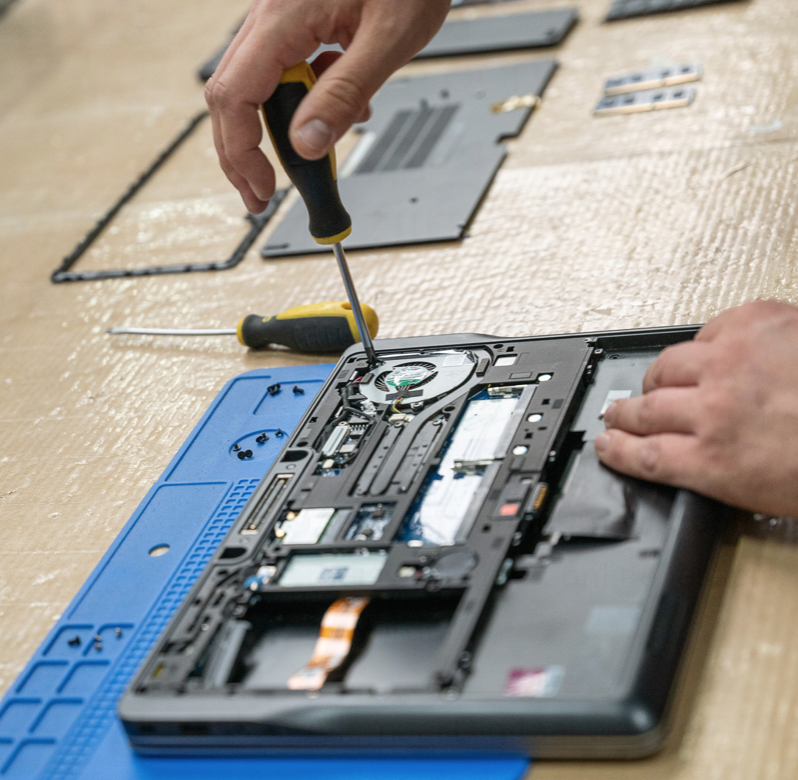 Extend the life of your laptop through proper maintenance and repair
Laptops can have a variety of different problems. At the Repair Café, experts can help you fix these problems! In almost half the cases, laptop repairs in Repair Cafés are successful. This is evident from the RepairMonitor: the online tool with which Repair Cafés keep track of their repair data.
Laptops brought to Repair Cafés are often not broken. In many cases, maintenance or explanation of using the device is sufficient to solve the problem. However, occasionally, a component may need to be replaced.
Common laptop problems
Below are the top-5 common laptop problems, as found in the RepairMonitor.
Battery defect / needs to be changed
Hardware failures / problems
USB ports broken
Software problems / software updates needed
Issues with starting up the laptop
In many cases, these problems are easy to solve. Want to try it yourself? Then repair platform iFixit can help you with tools, manuals and spare parts. Would you rather do it together with an expert? Then you are more than welcome at a Repair Café.

Help with laptop problems
Many Repair Cafés have one or more laptop specialists. They know a lot about complex problems and can help you. According to the RepairMonitor, in almost half the cases (46 per cent), the Repair Café manages to directly solve laptop problems. In 33 per cent of cases, we offer someone advice on how to complete the repair later on. Only in 21 per cent of all cases is the repair not successful.
Stan is one of those laptop experts. He volunteers at the Repair Café in Uden, in the Netherlands. "I enjoy volunteering at the Repair Café because I like to help people and the environment", he says. "It's nice to see how much waste we've already prevented. At present, we of Repair Café Uden have repaired one shipping container's worth of electrical and electronic products. Otherwise, all these things would have been thrown away."
According to Stan, mainly older people come to the Repair Café with laptop problems. They often don't know how to work with a specific program. "In many cases, it's something easy like a software problem. For example, how to use different email programs. I help them to install programs and show them the basic functions."
Tips for laptop maintenance
Proper maintenance can prevent many problems with laptops. There are the top-4 maintenance tips:
When the battery has charged to 100 per cent, unplug it immediately
Regularly backup data on an external hard drive
Install and update anti-virus software
Carry your laptop in a good laptop bag to protect it if it should fall
Older laptops are easier to repair
As with other products, new models of laptops are often more complicated to repair than older ones. This is because certain parts of newer laptops cannot be replaced easily.
Stan has noticed this change during his years at the Repair Café too. "Generally, I can say that older laptops are easier to repair. With laptops from 10 years ago, you could change the battery, replace the hard drive and even the keyboard. Also, the screw locations were marked. You can no longer repair anything yourself with for instance, the new MacBook. Even repairers from the Apple Store often don't have the necessary parts. This makes repairing increasingly difficult, not only for laptops but also for tablets and smartphones."
According to the RepairMonitor, HP, Acer, and Asus are the most popular laptop brands in the Repair Café.
Top 5 laptop brands at Repair Cafés

Repair your laptop yourself or drop by the Repair Café!
Do you need help repairing your laptop? Then come to a Repair Café in your area. Want to do the repair yourself? Then find a repair guide at iFixit! You can also use these step-by-step manuals to prepare your visit to the Repair Café. This way you can read what to expect.