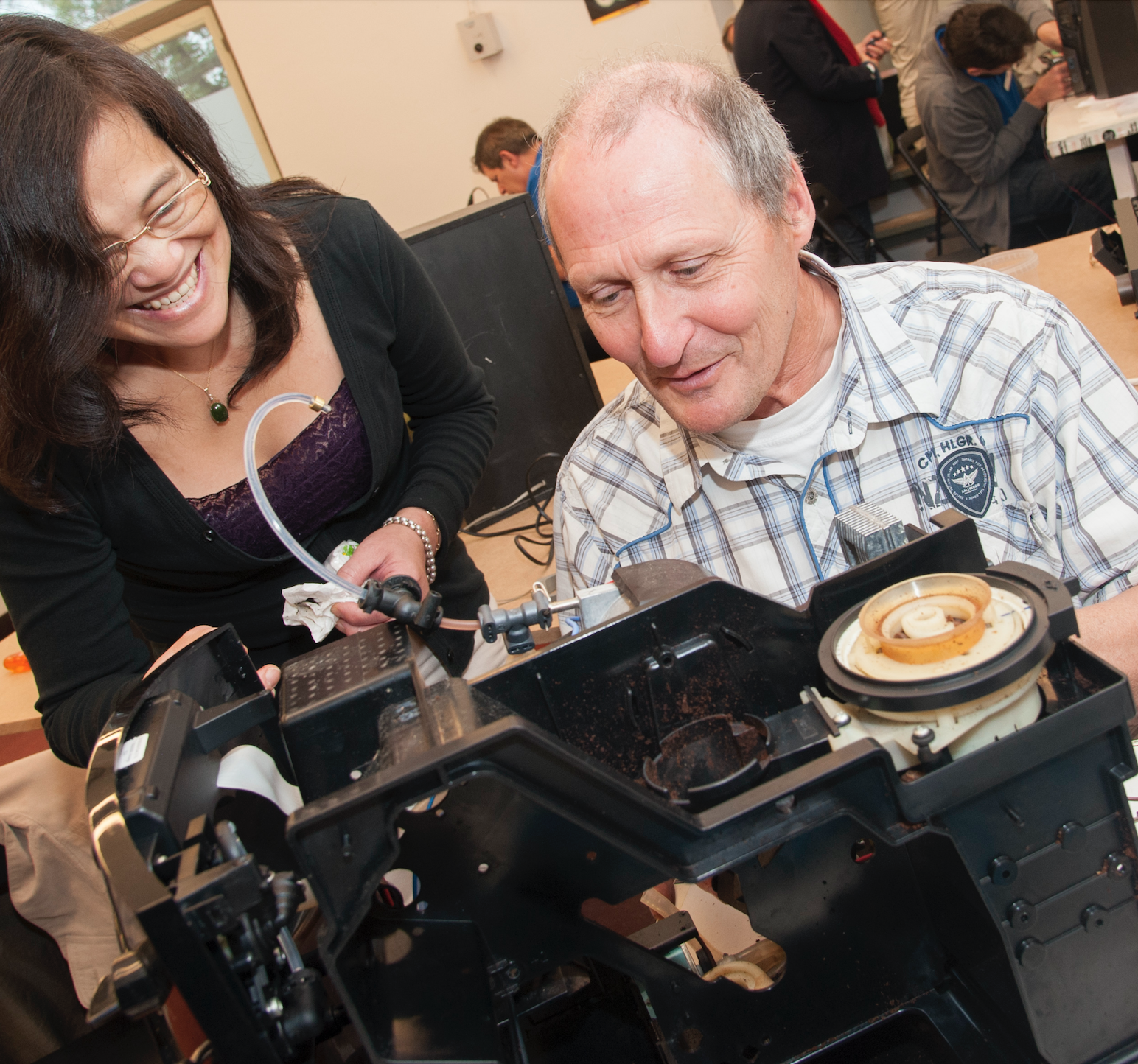 Give your food processor, toaster or coffee maker a new life!
Our Repair Cafés repairers see many broken kitchen appliances: toasters with a rack that doesn't go down or a coffee machine that leaks or doesn't make coffee at all. Fortunately, they can often repair these things in a Repair Café.
A toaster, for example, is successfully repaired in almost half the cases. This is evident from our RepairMonitor, an online system in which repairers from all over the world keep track of the items they repair in their Repair Café. Thanks to this information, we also know why toasters and other kitchen appliances sometimes stop working.
Repairing toasters or food processors
It often helps to clean a toaster properly. If too many breadcrumbs have fallen in, it may no longer be possible to toast the bread properly, or the appliance may start to smell. This can be easily remedied by removing the breadcrumbs. Sometimes, a switch needs to be cleaned or replaced to make a toaster work again. Unfortunately, making repairs isn't always possible. If the heating element is broken, it has to be replaced in its entirety.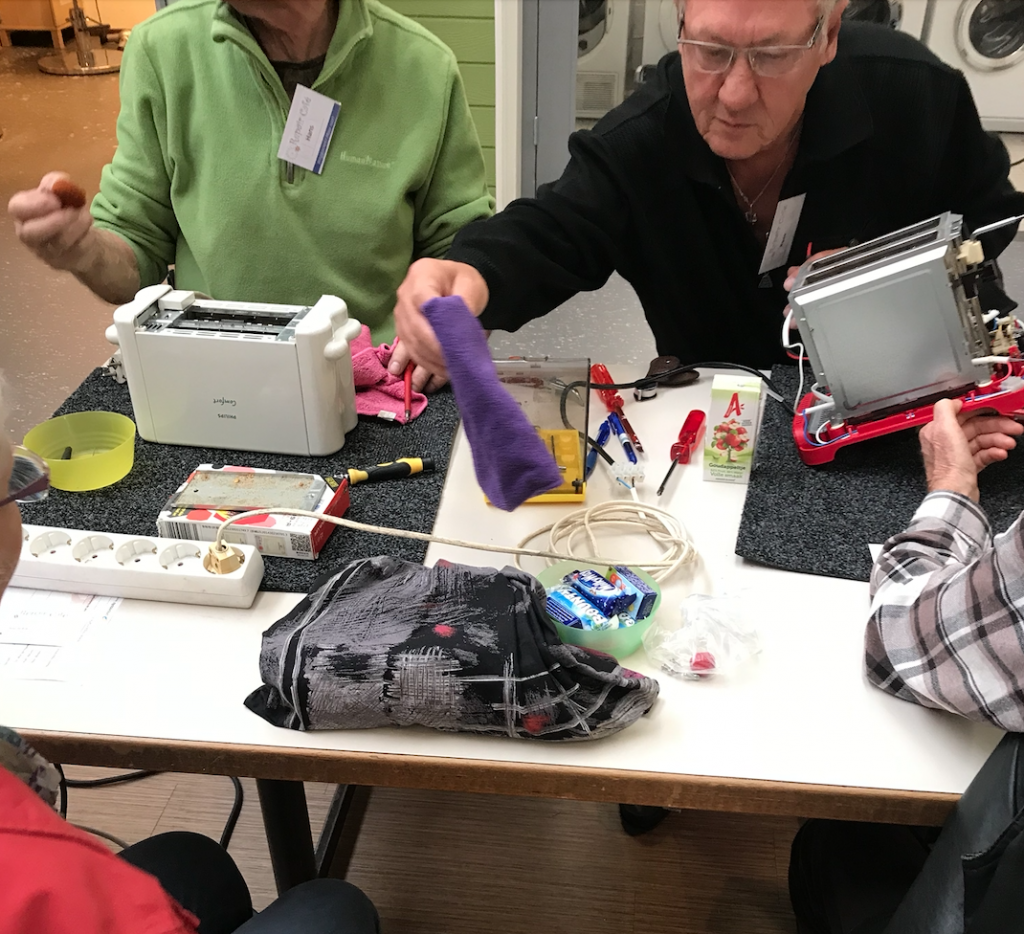 Toasters can often be repaired  at a Repair Café very well.
"We then ask people if they can order such an element themselves. We can help put it in later", says Joop de Kok of Repair Café Wormerveer in the Netherlands. "What also often happens is that a wire breaks. That's the simplest thing there is, and we can easily fix it." Of the 316 toasters entered in the RepairMonitor, 151 were successfully repaired.
With food processors, signs of age often cause problems. Lubricating a switch can solve the problem. Sometimes, the fan blade is bent and can be straightened out, after which the food processor will functions properly again. Of the 217 kitchen appliances entered in the RepairMonitor, 106 were successfully repaired.
Repairing coffee makers
Besides toasters and kitchen machines, visitors to the Repair Café often bring in their coffee machine. Often, these machines are not in good condition and don't make coffee anymore. These machines are usually cleaned in the Repair Café.
Joop Janbroers of Repair Café Goeree-Overflakkee (the Netherlands), therefore, advises people to service their coffee machines regularly. "Always follow the tips in the manual. If the manual says that you have to decalcify after 20 batches, then you should do so. You can also do it after 21 or 22 times, but don't make it 50." Joop de Kok concurs. "If you regularly decalcify a coffee machine properly, it will last for years. And that's what visitors start doing."
You can learn to make repairs
The Repair Café repairers are always willing to explain what visitors themselves can do to ensure that their items last longer. Philip Leenman of Repair Café Bussum (Netherlands) also encourages people to do some tinkering if a piece of equipment no longer works properly. "In many cases, you have written off the appliance anyway. Many people come to our Repair Café with the idea: see if you can still use it. If not, that's fine too. But you can also do some research and tinkering yourself. Just unscrew the screws as long as you remove the plug from the socket first."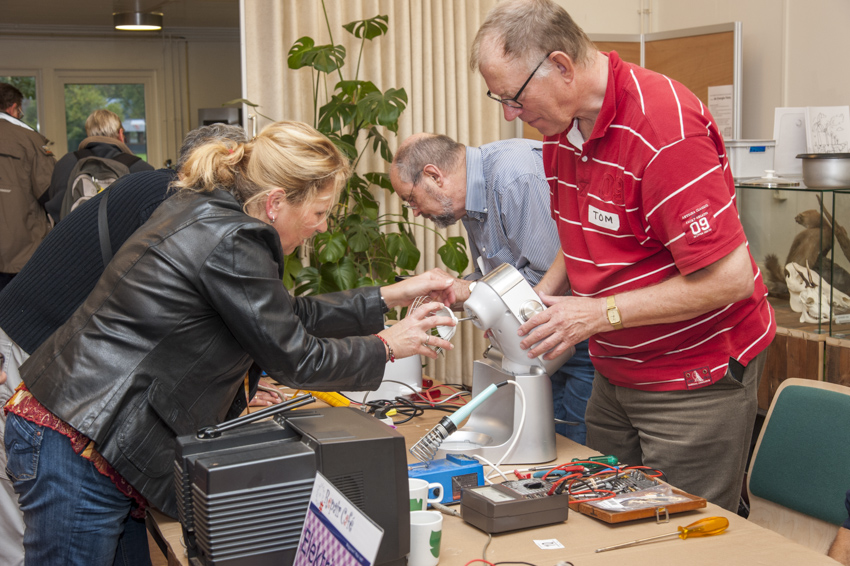 If your kitchen appliance is broken, you can, of course, always bring it to one of our Repair Cafés. "We try to help as many people as possible," underscores Joop de Kok. "For example, a few years ago, a lady came with a bread baking machine. We took it apart, put it back together, and it worked just fine. A week later, the lady brought us a loaf of bread. That makes doing this work worthwhile, we always say."
Repair your kitchen appliances yourself or drop by the Repair Café!
Do you need help repairing your toaster, coffee maker or food processor? Then come to a Repair Café in your area. Want to do the repair yourself? Then find a repair guide at iFixit! You can also use these step-by-step guides to prepare your visit to the Repair Café. This way you can read what to expect.