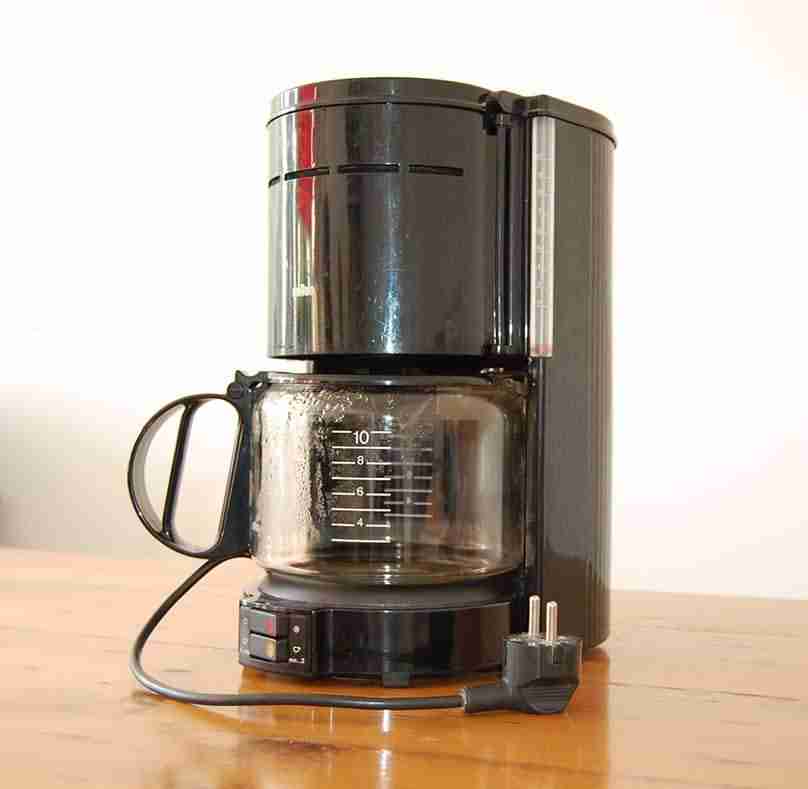 Enjoy your coffee maker for longer. Come to the Repair Café for repairs or advice!
Coffee makers are one of the products visitors bring to the Repair Café most often. This is not so strange: coffee is essential to many people. Coffee makers are often used daily and not always with care. These two things contribute to the fact that coffee makers occasionally break down.
Fortunately, repairers in all Repair Cafés have a lot of experience repairing all kinds of coffee makers. In 60 percent of cases, the repairs are also successful, according to the RepairMonitor, in which Repair Cafés register their repair data. In a further 14 percent of cases, the owner receives advice, which they can use to complete the repair later. So, it certainly makes sense to come to the Repair Café when your coffee maker no longer works (as well as it should)!
Common problems with coffee makers
The Repair Café often solves the ten problems listed below with ease:
water doesn't flow
water doesn't heat up
switch or other buttons don't work
water leaks
hot plate doesn't heat up
machine only serves half cups
lights keep flashing
the appliance makes a noise
the appliance is dirty
problem with cord or plug
Solutions for problems with coffee makers
Repairers report in the RepairMonitor that they can often solve the problems by carrying out the following actions:
cleaning
descaling
replacing parts, like brewing unit, o-rings, hose, rubber, valve, condenser, fuse…
reassembling or fixing existing parts
Reasons why coffee maker repairs fail
When coffee machine repairs fail (29 percent of cases), it is often because a part has burned through or broken off or because there has been a short circuit. Sometimes, repairers cannot open the machine or find spare parts.
Common coffee maker brands
Repair Café repairers can handle all brands of coffee machines. The brands listed below are the ones they have the most experience with, according to the RepairMonitor:
Philips (especially the Senseo)
Nespresso
Krups (also Krups-Nespresso)
Magimix (also Magimix-Nespresso)
Bosch
Braun
DeLonghi
Siemens
Gradually fewer Senseos, more Nespressos
In the RepairMonitor, the Philips Senseo is still the most frequently registered coffee maker. Because visitors have so often brought them in, Repair Café repairers now have a solution for most Senseo problems. But in recent years, the Repair Cafés have seen the number of Senseos decline. "We now see more and more Nespressos coming in," says Frans Snijders Blok, repairer at Repair Café Bussum (the Netherlands).
Like Senseos, Nespresso machines are frequently brought in with the same problem. With the Nespresso, it is leakage. According to Frans, this is because the water pressure in the Nespresso is too high. "It is 15 bar. This only works well with a machine made of good quality material. Unfortunately, this is not the case with the Nespresso. It's made at rock-bottom prices, and that's at the expense of the quality of the material. That is asking for trouble."
Nevertheless, more than 50 percent of Nespressos are still successfully repaired, the RepairMonitor shows. Here too, cleaning and descaling are often enough to solve the problem. So even with a Nespresso, a visit to the Repair Café is undoubtedly worthwhile!
Do not use cleaning vinegar but citric acid to descale your coffee maker
Coffee maker maintenance tips
Do you want to enjoy your coffee maker for longer? Then take good care of it. Some essential tips from the Repair Café are:
Regularly clean an appliance. This prevents, for example, dirt from accumulating and causing blockages;
Descale it with citric acid or another agent recommended by the manufacturer. Do not use cleaning vinegar – it is too aggressive;
Remove the plug from the socket after use. By preventing a device from being permanently connected to the power network, you can significantly prolong its life;
Do you have a coffee maker in your mobile home, caravan or holiday home? Take it out before the winter. This way, you can avoid damage caused by freezing.
Repair your coffee maker yourself or drop by the Repair Café!
Do you need help repairing your coffee maker? Then come to a Repair Café in your area. Want to do the repair yourself? Then find a repair guide at iFixit! You can also use these step-by-step manuals to prepare your visit to the Repair Café. This way you can read what to expect.