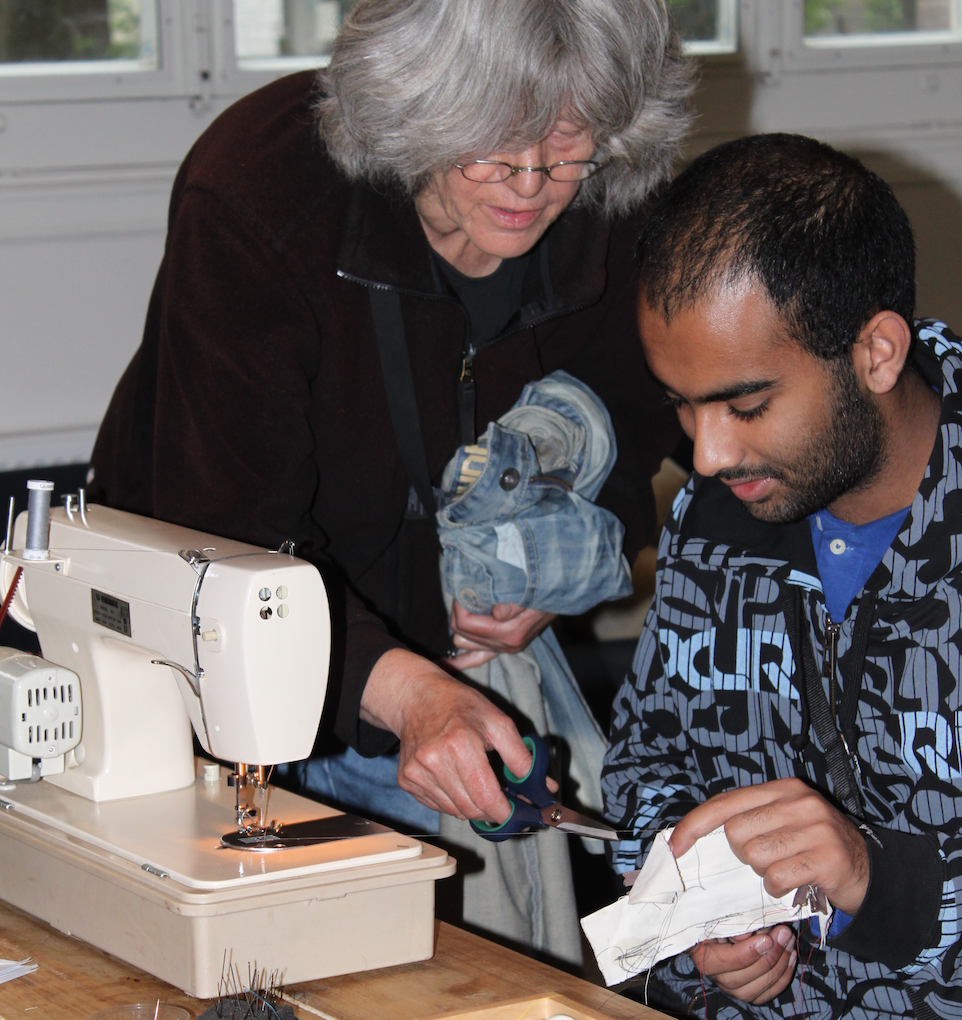 Give your bag, skirt, trousers or jacket a new life!
Clothing is brought to many Repair Cafés almost non-stop. Coats, bags, trousers, skirts, you name it. Our repairers are happy to work with you on it. And with success: in most cases, garments and other textile items are repaired.
This is evident from our RepairMonitor, the online system in which Repair Cafés all over the world keep track of all the items they have repaired. The system also lists what was wrong with an object and how it was fixed. This gives us a good picture of common problems with textile clothing and accessories.
Repairing jackets or bags
Of the 187 bags entered into the system, 157 were successfully repaired. Often, the problems were simple, such as a zipper that needed to be replaced or a strap that needed to be fixed. Or a tear had developed in a seam; this then needed to be stitched up. In some cases, the bag's material was too thick for the sewing machines in the Repair Café. In such cases, visitors were referred to a shoemaker, for example.
With jackets, a small repair is often sufficient.
Repair Café visitors also often brought jackets to have them repaired. The zipper was broken, or there was a hole or tear in the lining. Often the buttons were loose or had fallen off. Of the 539 jackets in the RepairMonitor, 490 were successfully repaired. Usually, the problems could be solved with a minor repair. "These are often straightforward things like sewing on a button, stitching linings of jacket pockets or inner linings of jackets that are torn," explains Marion van den Akker of Repair Café Oostzaan in the Netherlands. "And yes, zippers, an awful lot of zippers.
"Those are sometimes a bit trickier, but we've developed all kinds of tricks. You don't always have to take out the zipper completely. Often, the slider no longer works properly. You can use a pair of pliers to push it a bit to sit better around the teeth. And then it often works again. Or we can replace the slider."
Repairing trousers or skirts
Repairing zippers is also very common for trousers. In fact, trousers are in the top 10 of items most often brought to a Repair Café. People often come to have their trousers shortened or because they have a hole in them. Of the 1,697 trousers brought in, 1,634 were successfully repaired.
The Repair Café repairers usually found a solution to the problem visitors come in with. "We had someone a while back who had trousers with tiny pockets and wanted larger ones," says Annelies Bolijn of Repair Café Enschede-Zuid (the Netherlands). "We helped with that by putting new fabric behind them."
Visitors also regularly come to a Repair Café with skirts and dresses. Together, those garments were entered into our RepairMonitor 307 times; 281 of them were successfully repaired. Again, the problem was often a broken zipper, a loose seam or a tear in the fabric. By re-stitching the dress or skirt or replacing the zipper, many of these problems were easily fixed. Our repairers can also hem a skirt or dress.
Upcycling old textile items
No matter what kind of things they get under their noses, the Repair Café repairers always do their utmost to repair them. Marion van den Akker once had a lady in her Repair Café who didn't want to part with a lace curtain. "It had been hanging in front of her window for decades. Unfortunately, it had deteriorated so much that every time we tried to sew it, it tore off. We tried everything, all the tips and tricks. But at some point, we had to give up. Then we sewed a kind of new curtain. We usually come up with something that makes people happy again."
Annelies Bolijn remembers a lady who was very attached to her worn-out duvet. "She said she attached great emotional value to it and would find it very difficult to part with it. I did repair it, but I was sure that it would get new holes if she threw it in the wash. I then advised her to make a small bag of the fabric, for example, to put potpourri in. She thought that was a good tip."
Repair your clothes or other textile items yourself or drop by the Repair Café!
Do you need help repairing your clothes or other textile items? Then come to a Repair Café in your area. Want to do the repair yourself? Then find a relevant video on YouTube or a repair guide at iFixit! You can also use these step-by-step guides to prepare your visit to the Repair Café. This way you can read what to expect.