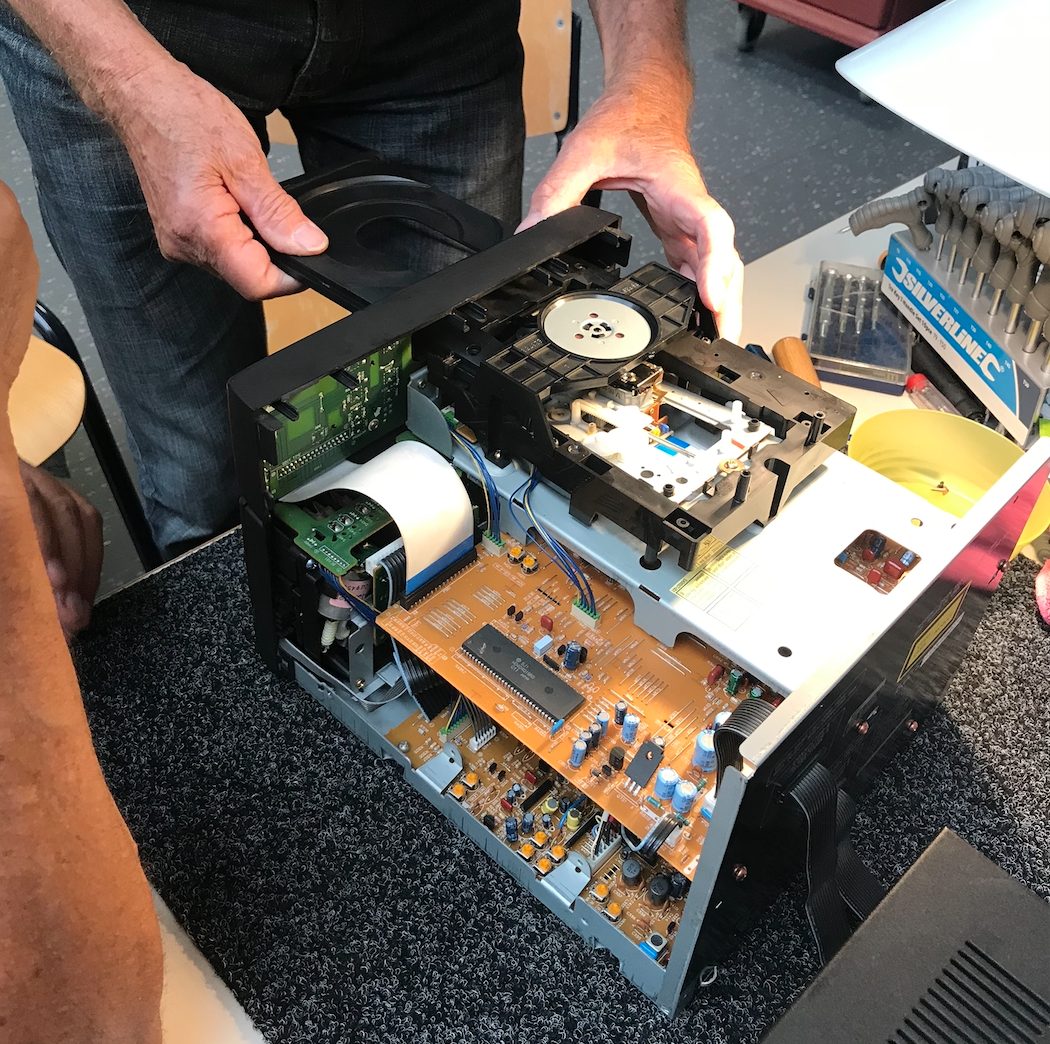 Give your tape recorder, record player, CD player or DVD player a new life!
Many Repair Cafés regularly receive visitors with audio and video equipment. Older appliances, in particular, such as record players or CD players, are often offered for repair. They often have problems with wear and tear. The good news is that they can often be repaired and will last for years to come. About half of all audio and video devices submitted to the Repair Café are successfully restored.
This is evident from the RepairMonitor, an online system in which repairers from all over the world keep track of the things volunteers repair in their Repair Café. Thanks to this data, we can also precisely see what the most common causes are when, for example, a CD player stops working.
Repairing CD players or DVD players
The problem with CD players and DVD players is often the lens. The lens can no longer read the CD or DVD. It also regularly happens that the tray in which the disc must be placed no longer functions properly. Sometimes, it won't even open at all.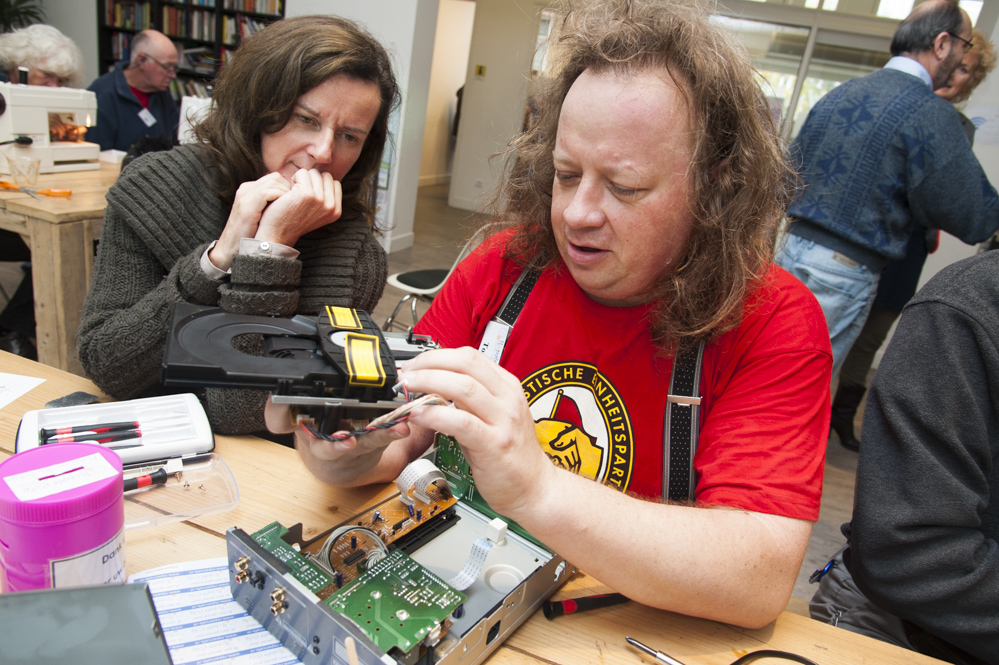 Such problems can often be solved simply by cleaning the lens or lubricating the CD or DVD tray. "All you need is a little alcohol and a cotton bud," says Mark van Maanen of Repair Café Enschede-Zuid in the Netherlands. Sometimes, running a cleaning CD can also solve the issue.
Thanks to such minor actions, 151 of the 330 CD players entered into the RepairMonitor were repaired. Unfortunately, this isn't always possible. Sometimes, the device cannot be adequately dismantled, or it's unclear what exactly was wrong. In the case of DVD players, 119 of the 226 repairs carried out were successful.
Repairing tape recorders or record players
Record players and tape recorders are less frequently brought to a Repair Café, but they are often several years older. This means they've suffered even more from the effects of age. Dust, weak wires, a stretched spring: these are all problems that are difficult to prevent. Fortunately, such problems can often be solved relatively easily.
Old tape recorders are generally good to repair, especially at the Repair Café!
In the case of a record player, the spring can be re-tensioned or the wire replaced. Sometimes, cleaning or lubricating the record player can also help. Tape recorders also need lubrication and cleaning. Philip Leenman of Repair Café Bussum (the Netherlands): "Small things, like a fuse, a ring, a wire, a screw, we have them all in stock. Cleaning is no problem either."
Most things can be repaired, says Mark from Repair Café Enschede-Zuid. And often, the visitor learns something as well. "Some people find it very interesting and want to take a look. They think, 'Oh, that's not so difficult'. I'm glad when I get to explain to them what I do."
Repairing audio and video appliances with a personal history
People bring their appliances to a Repair Café for all sorts of reasons. According to Frans van de Pavoordt of Repair Café Eindhoven-Blixembosch (the Netherlands), there are roughly three categories of visitors. "Some consider the environment. They think: 'everything I can repair I don't have to throw away, and that's better for the environment'. The second group may or may not have the money to buy a new appliance. The third group, if you ask us, is the most fun. These are the people who bring in something old that has a personal history. These people are attached to the object.
For example, Frans once had a lady come to him with a very old tube radio that had broken down. Her parents had bought the radio with the money they had received on their wedding day. Frans finally managed to repair it after a long search for an original part. "The funny thing was that years later, a car came driving through my street. The window opened, and someone shouted: "Frans, it still works!" It was the lady with the radio.
Repair your audio or video appliance yourself or drop by the Repair Café!
Do you need help repairing your audio or video equipment? Then come to a Repair Café in your area. Want to do the repair yourself? Then find a repair guide at iFixit! You can also use these step-by-step guides to prepare your visit to the Repair Café. This way you can read what to expect.