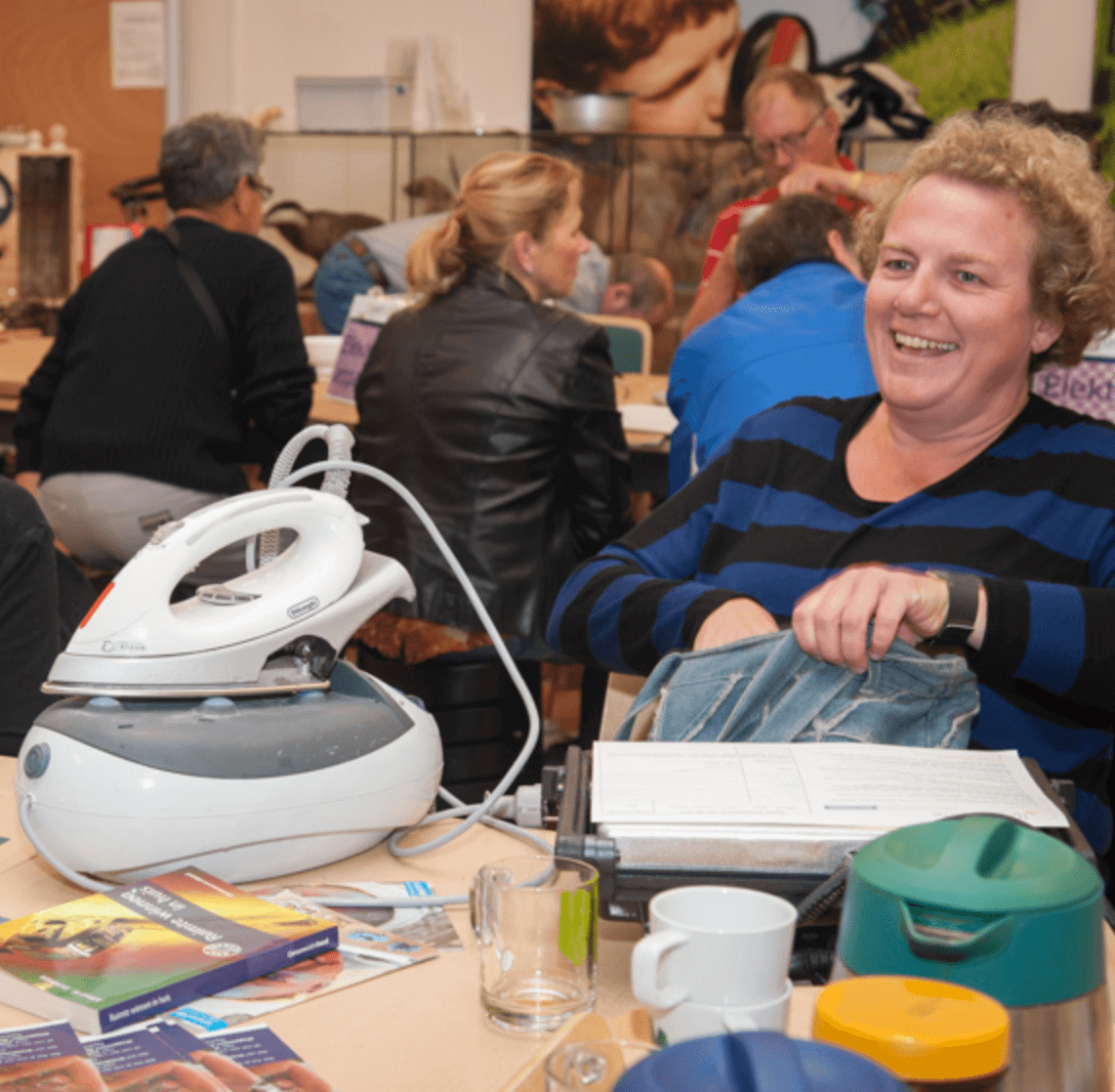 The correct temperature and steam dosage are crucial for (steam) irons to function properly. However, these are also aspects on which they often fail. But there is hope: in the Repair Café more than half of the (steam) irons are being repaired! The RepairMonitor in which Repair Café repairers register their repair data, proves this.
Common problems with irons
The RepairMonitor shows the following top 6 of iron problems:
1. Steam device does not steam or spray any more
2. The wire, cord or plug is broken
3. The device does not work anymore
4. It doesn't get warm or doesn't get warm enough
5. The device leaks
6. The switch or button no longer works
Disassembling an iron
In order to repair an iron, you must first open the device. That is in no way easy! Fortunately, repairers of Repair Café often know what to do. The Repair Café team in Eindhoven-Woensel (Netherlands) are able to open almost all irons. Thanks to good cooperation, patience and discussion often all the screws are found. "There are always screws under the strip of the handle and under the cap where you have to refill the water tank", says repairer John. "They're also often near the light, at the front of the tip and underneath the temperature switch." Manuals such as those of iFixit can also help.
Properly maintaining your iron
The vast majority of iron problems seem to be preventable by proper maintenance, according to the RepairMonitor. Lime scale, leakage and clogging will cause the appliance to stop steaming. By cleaning it, reassembling it and lubricating it, you can solve this. In order to remedy a leakage, sometimes a part must be glued.
Descaling your iron
John from Eindhoven warns that a great deal of lime scale can cause the entire device to jam. This is a point of attention in the case of steam irons, because tap water contains lime. The device contains an anti-calcium rod that pulls lime out of the water. As a preventive measure, you can rinse this rod, the iron and the water tank well. Use water with a little vinegar or lemon for this. In case of a lot of deposits, you can also soak the rod in a bowl of kitchen grade vinegar for four hours and then rinse it off with water. Often, anti-calcium rods can be ordered from the manufacturer, for instance via Tefal or Calor.
Tips for cleaning your iron
With vinegar you can also get a lot of dirt off the iron. A burned soleplate (the base of the iron) can be cleaned by rubbing a white candle over it when the iron is lukewarm. Then remove the candle wax with a paper towel. Melted polyester or vinyl on the sole can be removed with a cloth soaked in nail varnish remover. Remove when the soleplate of the iron is cold.
Handling cords of irons properly
As with vacuum cleaners, it is important that you handle the cords of steam irons properly. Iron cords often break due to rough use. In this case, the entire device will no longer turn on. It is useful to tell the repairer how you handled the device. This way he knows more quickly what to look for.
Fortunately, a wire breakage is easily fixed. Usually there is enough wire left and the cord can be shortened without too many problems. Repair Cafés often have a lot of experience with this. If the wire can no longer be saved, it can be purchased at most hardware stores for less than ten Euros. The new or shortened cord is relatively easy to attach via a terminal block inside the device as shown in this video.
Repair your iron yourself or drop by the Repair Café!
Do you need help repairing your iron or steam iron? Then come to a Repair Café in your area. Want to do the repair yourself? Then find a repair guide at iFixit! You can also use these step-by-step guides to prepare your visit to the Repair Café. This way you can read what to expect.